A wide choice of activities at your disposal :
Walks on foot :
At 200 m from the houses, the coastal paths will allow you to walk along the sea for several kilometres.
The landscapes are magnificent, a change of scenery and relaxation guaranteed.
Bike rides :
Numerous cycle tracks or small paths will allow you to practice cycling in complete safety.
In each of our villas you will findadult bikes, children'sbikes, tricycles and baby seats.

Kayak rides :
Two canoes and kayaks at your disposal from April to September.
Aerial walks :
The Morlaix aero-club is at your service to discover Finistère in a different way.
Horse riding :
The Plounevez Le Poney Ranch equestrian centre or the St Pol de Léon equestrian centre offer outings in the countryside.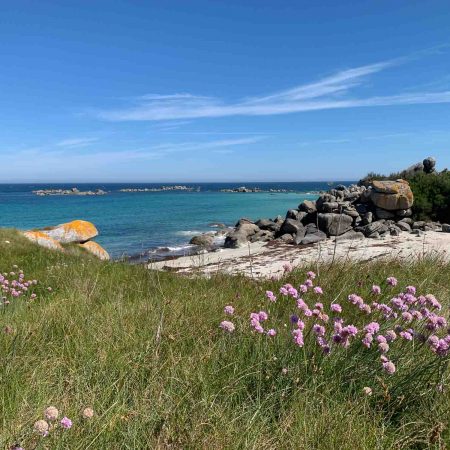 The beaches :
Les Amiets beach is 200 m away and is a beautiful white sandy beach. It is also here that the centre of the nautical activities of the Commune of Cléder is located.
On the Pointe des Amiets, you can see a guards' house nestling in the rocks.On the east side of this point, there is a "grenouillère" which serves as a water reservoir for swimming in summer. At the Pointe des Amiets, one can see many rocky chaos, which leave room for the imagination of bestiary forms (the camel, the eagle …).
Fishing on foot
Come and discover the phenomenon of the tides and take the opportunity to fish on foot.
You will be able to collect shrimps, abalones (also called Haliotis), periwinkles (also called Littorina).
Fishing at sea :
For a half day or full day outing, it is possible to fish at sea with for example Mr Abjean de Moguériec.
Sailing and other water sports :
The nautical centres of Plouescatand Cléder offer rentals and/or training courses for catamarans, windsurfing boards, kayaks from 8 years old as well as sand yachting in Plouescat.
Tennis :
2 tennis courts are freelyaccessible in Cléder, 3 km from the villas, and 4 others in Plouescat.
Golf :
The 9-hole Carantec golf course is 25 minutes away.
Kart :
Brest's indoor kartingis open all year round and offers good quality equipment.
Leisure and games without leaving the villa :
A ping-pong table, a billiard table and a football goal are at your disposal.
The islands :
The island of Batz, 20 minutes by boat from Roscoff is to be visited all year round.
Shuttle bus schedules. take a tour of the island and visit the exotic Georges Delaselle garden(on the way back you can also visitthe Roscoff garden) or enjoy a pancake in the harbour.
Shuttlesare waiting for you to visit the other islands.
You can also visit on foot the islands of Callot opposite Carantec or the island of Sieckopposite Santec.
Lighthouses: Don't miss the lighthouses of Ouessant, Sein or Bréhat on the Pink Granite Coast …
Natural sites:
The Huelgoat forest in the Monts d'Arrée, The Langazel wetland.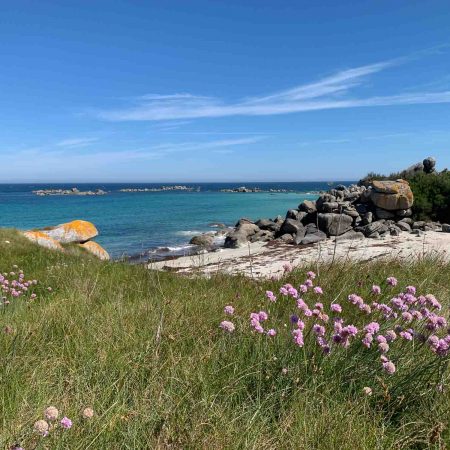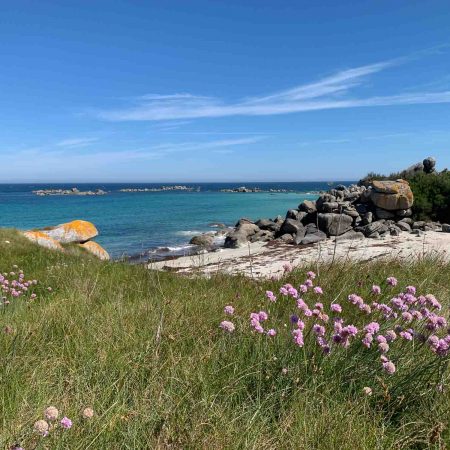 OCEANOPOLIS
Discover the Ocean Discovery Park in Brest.
Castles:
Visit thecastle of Kerjean, Kerouzéré, La Roche Maurice or Brest.
The farmhouse Leon Museum
The Cathedral of St Pol de Léon
The parish enclosure of Guimiliau
Cinema of Plouescat
Casino Partouche of Plouescat
Bar Le Milton in Porguen ( 5 mn from the villas )
BABY sitting and housekeeping hours on request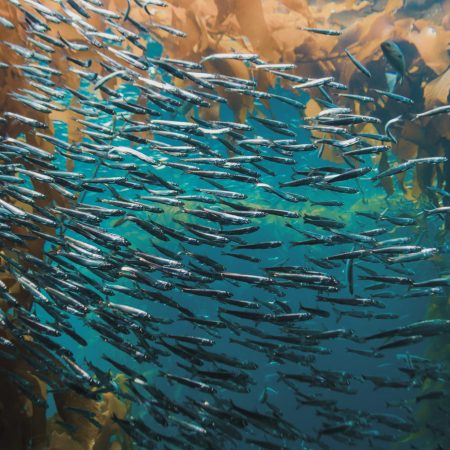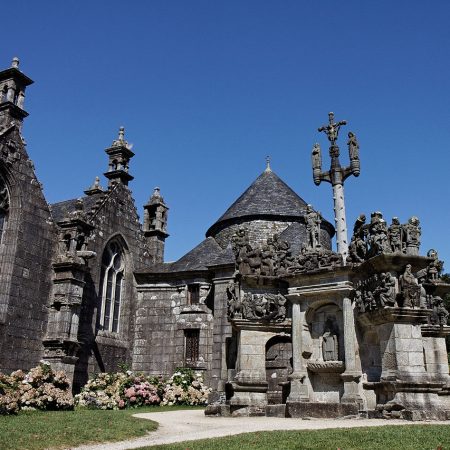 Some restaurants:
Le Rachkam ( 1 star in 2015 ) and L'Ecume des jours in Roscoff, Le Cabestan and l'Hôtel de Carantec ( 2 stars ), La Pomme d'Api ( 1 star ), Roch Ar Mor in Plouescat, crêperies….
Markets
Taste local produce direct from the producers The market takes place onSaturday mornings in the Places des Halles and in the adjacent streets. It receives 80 merchants during the summer period.
La Miellerie
Taste the honey of the coast in this honey house located 200 m from the villas.
Pink onions :
Discover the production of the Roscovite pink onion
Sea Fruits :
We offer home deliveries of seafood platters. Breton